Louise Hay's best-selling book, You Can Heal Your Life, has transformed the lives of millions of people worldwide. Her story is truly one of courage and triumph. Using the techniques described in her You Can Heal Y0ur Life, Louise transcended her own abusive upbringing to create a life dedicated to helping others learn how to let go of limiting beliefs and create the life of their dreams!
Louise's life work really began in 1970 in New York City, where she  began training as a spiritual practitioner and counsellor,  and later completing the ministerial training. She learned the power of positive affirmations and a spiritual connection. It was during this time that she compiled the Heal Your Body book connecting physical symptoms with mental and emotional causes, with corrective thought patterns or affirmations.  When diagnosed with cancer shortly thereafter,   she used her own methods to heal herself.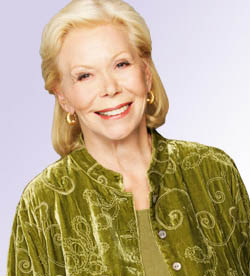 Louise later moved back to California, where her work expanded in powerful ways. She wrote You Can Heal Your Life (35 million copies sold worldwide), started Hay House publishing, and began an AIDS support group in her living room that grew to 800 people meeting weekly in a West Hollywood gymnasium.
Louise Hay is an icon in the self-help movement. Her fundamental message, the importance of loving yourself, has transformed the lives of millions. In addition to her best known books mentioned above, she has written other books, recorded audio CDs and DVDs, and now filmed the You Can Heal Your Life Movie, which will spread her message even further.
To watch the trailer for the movie:
www.youcanhealyourlifemovie.com
If you are in Australia, you can buy the movie here.
To find out more about Louise's workshops, email Deborah at deb@debfay.com.au and make the move toward a healthier and more loving existence.